Online sportsbooks are more prevalent than ever before, and that puts bettors in a perfect position to wager on sporting events after they begin. This is referred to as live betting, and it's becoming an increasingly popular way to wager on sports.
Whether you're trying to gain an edge, add some intrigue to the game, or simply forgot to bet before the game started, live betting is a great way to capitalize on the ease of online sports betting. On this page, we'll explain everything you need to know about gambling on games after they begin including how these odds work and some live betting strategies to keep in mind.
10 Things To Know About Live Betting On Sports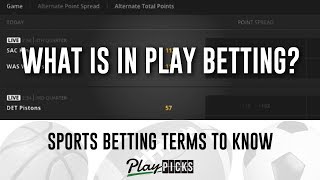 1.What Is Live Betting?
Live betting refers to the process of betting on a game that is already in progress. Most bets are still placed prior to the beginning of a sporting event but live betting, also known as in-game or in-play betting, isn't too far behind.
And it's all thanks to the growth of mobile betting. Gone are the days of needing to be at the window of a brick-and-mortar venue to wager on games. Now, all bettors need to do is take out their mobile device and open an application to gain access to live betting lines.
Oddsmakers will set an opening line and close action right before kickoff, faceoff, tip-off, or first pitch, but that is just when the action starts for many bettors. Sportsbooks will then continue to offer updated lines throughout the game and based on the action taking place. You can find the standard moneyline, spread, and total at any betting site, while select sportsbooks such as DraftKings and BetMGM offer live lines for certain props as well.
Despite the fact that the process is different compared to pregame wagering, the standard principles and rules of sports betting still apply.
2. How Do Live Betting Odds Work?
As soon as a game gets underway, online sportsbooks begin to adjust their closing lines based on the in-game results. This applies to point spreads, totals, and can apply to certain player or team props.
Live betting odds won't move too much at first. As time ticks away (or outs are recorded in baseball), lines will slowly adjust. In-game odds begin to fluctuate dramatically when a team shows a significant advantage or causes a change on the scoreboard. When a key scoring play such as a touchdown occurs, live odds will often freeze so that the sportsbook can adjust to the new scenario. Once oddsmakers are ready, the new odds are released to reflect what just took place, and bettors can place a wager before the next key play occurs.
3. Which Types Of Live Bets Can I Make?
Live betting is most often available for the moneyline, point spreads, and totals, with player or team props being occasionally offered. Here is a more detailed outline of what you can expect:
Moneyline: A bet on the winning team, regardless of score. The favorite has a negative line and you must risk the moneyline to win $100 in profit. The underdog has positive odds and the moneyline is what you can win with a $100 bet.
Point Spread: The point spread is a hypothetical winning margin for the favorite, and losing margin for the underdog. It is how oddsmakers even out the game for bettors since teams differ in quality.. The goal is to attract an equal number of wagers on both teams to ensure a profit for the house, with neutral odds around -110 on each side.
Totals: The total refers to the combined score in a given game. Bettors are presented with an option to pick over or under the implied total that both teams will combine to score. For example, an NBA total may be 220 points. An over hits with 221 or more combined points, and the under wins if the final score combined to be 219 points or fewer. Similar to spreads, totals will have juice around -110.
Props: Shorthand for proposition bets, these wagers offer the opportunity to bet on a variety of things outside of the standard moneyline, spread, and total. Many props are focused on player stats or in-game occurrences for one specific team. Props that are deemed less likely will offer plus odds such as the first TD scorer in an NFL game.
Futures: Because some futures markets will remain open throughout a season or tournament, it's actually possible to technically place live bets on them. Golf events are four days long and you can bet on the winner at any point so technically, that's a live bet. The same goes for picking a Super Bowl winner during Week 3 of the NFL season.
4. Shop Around For Live Lines
One of the best pieces of advice for bettors to follow is to shop around for lines, and the same goes when you're live betting. It's entirely possible that two sportsbooks can have differing live odds for a given game, which means you may not be getting the best possible odds if you aren't able to check multiple sites.
This is why bettors would be wise to create more than one sportsbook account and split the bankroll up. Line shopping may only save a few cents on the dollar at one time, but it can add up to be a major difference in long-term profits. If the Chicago Bulls are trailing by 10 points, PointsBet could list them at +250 while Caesars has them at +275. Wouldn't you want the choice of earning an enhanced payout? Then give yourself the ability to shop for lines.
We recommend comparing live betting odds at these online sportsbooks:
5. Watch The Games You're Live Betting
The aforementioned advantage for a bettor basically only exists if they're watching the game in real time and are able to use that knowledge to try and predict what will happen next. Live betting a game without the eye test is akin to betting blindly on a roulette wheel. This is especially important early in games when a savvy fan can be more predictive than reactive. Live betting is generally more profitable for those who are willing to go against the grain by picking a team that is underperforming.
6. Live Bet Favorites Trailing Early
One of the most popular live betting strategies is to capitalize on overreactions by the sportsbook early in a game, especially when a superior team starts slow.
The NBA and NFL offer ample opportunities to back a favored team after a poor first quarter. If the Chiefs fall behind by 10 points but everyone is healthy and you feel it's an aberration, there is no reason to lose faith in the favorites. Suddenly, that seven-point spread could be under a field goal with plenty of time for Kansas City to come back against an inferior opponent.
Oddsmakers have become better about waiting to adjust the point spread when the best teams in their sport fall behind, but there are opportunities to get value on the spread and moneyline anytime a favorite falls behind.
7. Fade The Trending Point Total
When games start fast with a ton of scoring, the total will often rise to compensate for a higher projected score. But in most sports, especially basketball, scoring slows down as things progress, specifically in the final minutes if the game is on the line.
One live betting strategy is to attack high-scoring games early on with the live under based on the assumption that teams will adjust and show some defensive resistance. In the NFL, games can often start low scoring before offenses find a way to get points on the board late. So the opposite can also pay off by live betting the over after a low-scoring first quarter or half.
8. Live Bet To Hedge Other Wagers
Those who place hefty wagers on an outcome will be familiar with the concept of "Hedging" by betting the other side of the outcome to prevent a total loss. This strategy is often employed when betting long-term results, a.k.a. "Futures" or when combining multiple bets into a parlay.
When it comes to live betting, hedging can be far more productive because the line changes enough to provide a scenario where both the original bet and the live bet are successful. The practice of searching for those types of dual wins is known as "Middling." If you back the underdog Kings to cover an 8-point spread prior to an NBA game, but they start strong, you could potentially place a live bet for the favored Lakers to cover a smaller spread of 3 points. If the Lakers win by 3-8 points, both bets cash.
9. Waiting For Live Odds Can Create Value
Some games generate more hype than others and when that happens, what the masses are betting on matters because it can have a major impact on the odds.
For example, the public tends to love the idea of a high-scoring, exciting game, so the over will see a ton of action. This can inflate the total itself along with the juice you're required to pay for that number. So if you also like the over but believe that it's been driven too high, waiting for the live odds to generate midway through the first half of a game can provide a total closer to your liking if things start out slow enough.
If the Packers and Vikings close with a total of 54.5 points but go into halftime with Green Bay up just 10-7, the live total would be much lower than the original number. This would provide value for those who feel the second half will feature much more scoring.
Of course, this could go the complete opposite direction in the event the public is correct. In hoping to gain better odds, there's a chance of losing any opportunity to to place your wager if the live odds that you want don't present themselves.
In many ways, live betting offers the bettor some advantages against the sportsbook. Oddsmakers are very careful in crafting pre-game lines and that makes it extremely difficult to capitalize due to the amount of data and preparation dedicated to the odds.
But when lines are consistently adjusting to account for in-game results early in a contest, savvy bettors can capitalize by utilizing their knowledge of game trends and their understanding of the live contest. Oddsmakers and bettors are on a bit more of a level playing field in this situation, and it's one of the many reasons that more and more bettors are looking to live lines for profits.
10. Don't Chase Losses With Live Bets
While potentially lucrative, live betting presents a slippery slope for bettors who continue to try and reclaim their losses. This can become particularly problematic for bettors who placed a large pre-game wager and are live betting the same team in the hopes of a comeback.
Live betting can be more useful when bettors are unattached to the result and willing to hedge their bets rather than chase a big win. A great way to fine-tune the process of live betting and ensure some sort of profitability is to keep track of lines throughout the week and watch how the odds change throughout games. Comparing live lines to pregame lines will help inform you so that you're ready to identify mistaken lines by the sportsbooks and capitalize.
Live NFL Betting
The pace of play is different in the NFL from any other sport and that makes quick decisions even more vital. Oddsmakers will freeze the line after almost every big pass play, sack, or score, so getting your bet in at the right time is critical.
There are key numbers (for both spreads and totals) that you want to be on the correct side of when NFL betting, and taking advantage of a live line before it alters or disappears entirely can be the difference between a win and a loss. Point spreads in the NFL are often set on those key numbers such as 3 or 7, so betting a live line that moves off even 0.5 off those numbers can prove to be the difference between winning and losing.
Scoring plays aren't the only thing that will be responsible for changing lines. The clock, weather, changes in possession, and field position are all things that can be responsible for the way live lines move throughout a game.
Compared to some other leagues, NFL games offer fewer opportunities for large comebacks due to the lack of possessions. Halftime adjustments are a huge part of the game, so placing a live bet after a team struggles early is more of a vote of confidence in the coaching staff than a prediction that the "superior" team will pull it out.
Live NBA Betting
Basketball is a game of runs and it's important to know that when NBA betting. This old cliche provides a window into why basketball is one of the most profitable sports to bet on live, whether in the college ranks or in the NBA. Momentum changes hands and teams will lose double-digit leads consistently in the professional ranks.
Teams with distinct home court advantages will feed off that crowd to complete a comeback and win when they were marked as serious underdogs in the second or third quarter. Momentum and crowd noise can also play into the total by ramping up the defensive intensity from both teams. That's why betting the under in the early part of a high-scoring NBA game, or taking a favorite after a slow start can be two of the most successful strategies in sports betting.
Live MLB Betting
Betting on MLB is a completely different animal in terms of gameflow and structure compared to the NFL and NBA. Baseball has so many games in a season, so it's a bit more unpredictable day-to-day than some other sports. The odds tend to favor the team with the stronger starting pitcher on but you aren't going to make money only betting favorites in baseball because underdogs pull through quite frequently.
Similar to other sports, you can bet on favorites trailing early, but they aren't necessarily in a position to mount a comeback after a rough start. If oddsmakers are slow to adjust, an underdog with an early lead can still be a profitable wager, even if the odds aren't as long compared to where they started at.
Live betting the total in MLB games is also difficult because it's so hard to predict whether a team will rally late or a bullpen will implode. Our advice there would be to dig into a team's recent history and figure out which relief pitchers it is more likely to use.
Live NHL Betting
NHL betting has an interesting wrinkle that separates from the other sports. When a team is trailing in the final minutes, they will often pull their goalie and open the door for the opposition to potentially tack on an easy goal.
That can have a huge effect on puck lines and provides an opportunity for live bettors who are willing to take a 1.5-goal spread on a team that is leading, or go the other way and take a trailing team at +1.5. It also affects totals, which are normally set between 5.5 and 6.5 goals, as empty-netters can oftentimes be the difference between a win and a loss for the over-under.