The most common way people bet at online sportsbooks is by wagering on a specific game and the moneylines, spreads, totals, and props that come along with them. But there's much more to sports betting than daily matchups, and that's where futures come in.
Futures betting is the process of placing a wager that will be completed at some point down the road. Rather than knowing the result of the bet within a couple of hours as you would with an individual game, futures bets can take days, weeks, or even months to settle.
Most commonly, futures bets are placed on a specific team, player, How to Bet on Futures or league for a season-long market. For example, picking an MLB team to win its division, the pennant, or the World Series. The truth is that the futures options go even deeper and spread across nearly every sport there is.
The major sports in the United States all have plenty of futures markets available before and during the season, and these bets can last for months. Soccer and tennis are both sports with tournaments which last for several weeks, and golf is a sport where events last four days. Despite the differences in length for all of these sporting events, they are all futures.
Futures Betting Odds
Futures are usually associated with the biggest leagues out there such as the NFL, NBA, MLB, NHL, and NCAA football and basketball. We think of the World Series, or the Super Bowl, or March Madness. But there's actually much more to it than that with the PGA Tour, ATP/WTA, and the many different soccer leagues and tournaments that take place around the world.
The most popular futures options out there at any given time are NFL odds for Super Bowl champion, which we have below.
10 Futures Betting Tips To Remember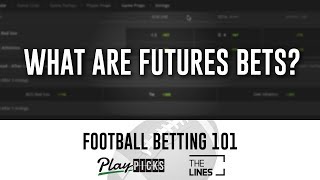 1. How Futures Betting Odds Work
Once posted by sportsbooks, futures lines are displayed in list form, showing each option accompanied by its odds. Similar to moneylines, payouts can be calculated easiest by using the number 100 as your guide. In the overwhelming majority of situations (especially season-long championship futures), all of the options will have plus-money odds, so the line represents the amount you can win if risking $100.
Check out this example of how futures lines are listed using MLB odds to win the World Series:
Los Angeles Dodgers +350 ($10 bet wins $35)
New York Yankees +550 ($10 bet wins $55)
San Diego Padres +800 ($10 bet wins $80)
Chicago White Sox +850 ($10 bet wins $85)
Atlanta Braves +1000 ($10 bet wins $100)
New York Mets +1200 ($10 bet wins $120)
Betting choices are listed from lowest odds to highest, so the teams with the highest probability of winning are at the top of the board. The bottom of the list features the biggest longshots in the league and would look like the following:
Detroit Tigers +10000 ($10 bet wins $1,000)
Kansas City Royals +15000 ($10 bet wins $1,500)
Pittsburgh Pirates +20000 ($10 bet wins $2,000)
While many place wagers before the season starts, some of the more popular options remain available throughout the season with live odds. This means that lines are available throughout just about the entire calendar year and during a season, bettors can wager on the same team with varying odds at different times if they so choose.
2. How Futures Odds Are Set & Implied Probability
As is the case with moneylines, spreads, and totals, futures lines are set by oddsmakers following a lengthy process which includes power ratings, algorithms, and formulas. Once an initial line is generated and oddsmakers adjust it to their liking, the opening odds are posted.
The nature of futures betting is that things happen over a longer period of time compared to wagering on daily games. So online sportsbooks post futures odds far before an event is scheduled to take place so bettors have some time to wager prior to its start.
For leagues of team sports such as the NFL, NBA, MLB, and NHL (among others) futures are posted soon after the championship is awarded, and are updated throughout the offseason as betting action takes place.
Because futures markets generally have many more options than your typical sporting event, we must look at these lines in a different light. Each futures line offers an implied probability of that event taking place. The higher the odds, the lower the probability. Positive odds have a probability under 50 percent while negative odds would have over 50 percent.
Most futures you come across will feature plus odds and the following formula to calculate probability: 100 / ( Odds + 100) x 100. A team with +350 odds would have a 22.22 percent chance of winning, while a team with +1000 has a 9.09 implied probability.
Depending on the market, there could be a negative line for a futures bet. If you'd like to calculate it, go with: Odds / ( Negative Odds + 100) x 100. For example, the implied probability is 60 percent at -150.
3. What Is Hold On Futures Betting?
When it comes to sports betting, the term 'hold' is used to refer to the percentage of money that the house (sportsbook) keeps for every dollar that is wagered. When it comes to futures, this is a buzzword that is spread throughout the gambling community.
To calculate the hold, one must add up the implied probabilities of an event and minus 100 to reveal the percentage. As bettors, we prefer a lower hold percentage because the higher the hold, the more devalued the line is. Unfortunately, futures have a much higher hold percentage compared to standard spread bets.
At the conventional -110, the sportsbook hold winds up being under five percent (4.8%). But when it comes to season-long futures, it's not uncommon to calculate a hold that winds up being well over 20%. Sportsbooks are unable to accurately pinpoint betting lines for so many different outcomes and as a result, they lower the odds from the true amount and inflate the implied probability in the process.
So not only are season-long futures incredibly rare to win because of the difficulty of picking among so many options, but bettors are rarely ever getting true value in the odds. For these reasons, the long-term futures markets are more commonly populated by recreation bettors rather than professionals, who focus on bets with a higher implied probability and a smaller sportsbook hold.
4. Line Shopping Is Valuable
Shopping for lines is a basic step that all bettors should take, regardless of bet type. But there is perhaps no better example of the value that can be gained from line shopping than with futures. Help yourself out by opening up more than one sportsbook account and adding this practice to your routine.
Rather than handicapping a game between two teams, oddsmakers are tasked with attempting to accurately price many more teams at once. A division may have four or five, while a league could have more than 30. Naturally, sportsbooks are not all on the exact same page when it comes to valuing every club.
When bettors shop for futures lines, there's the potential for multiple sites to have odds that vary. FanDuel may have the Los Angeles Rams at +1000 to win the Super Bowl, but BetMGM may have odds at +1250. With odds much higher than your average game, comparing odds and choosing the best price could mean a huge difference in payout.
5. Bet Multiple Teams In The Same League
One futures betting strategy involves wagering on multiple teams in the same market. Sure, you are guaranteeing a loss of some kind, but you're also increasing the implied probability of winning also.
For example, let's say you bet on the San Diego Padres to win the World Series at +2000. You can also bet on the New York Yankees at +1200 and the Boston Red Sox at +1400. Assuming you bet the same amount on each, bettors are guaranteed to profit in some way.
This isn't something that can be done for all futures, as the odds need to be long enough that a potential win covers any losses, and then some. So think season-long markets or tournaments in sports such as golf, tennis, or soccer.
6. Buy Low With Live Futures Bets
Because many futures markets remain after the season begins, there are plenty of live betting opportunities including division winner, conference winner, and champion. As odds update, you will be able to wager at odds that weren't available before the season began.
This will open up chances to employ the strategy of buying low. This involves wagering on teams after they've gotten off to slow starts and their odds begin to rise.
This can work especially well for a team that is expected to be a contender but is underperforming at the start of a new season. Buying low could also involve making a preseason wager on a team that isn't expected to do much damage, since if they get off to a fast start, the odds will begin to plummet.
7. Futures Are Perfect For Hedging
Hedging bets is a strategy that involves betting on the same game as a previous wager, but taking the other side. It is meant to serve as a way to guarantee profits and the easiest way to make it work is by doing it with futures wagers.
Let's say you place a $50 bet on the Milwaukee Bucks at +1200 to win the NBA title and they reach the Finals against the Phoenix Suns. For argument's sake, the line is now +100 to win the championship for both teams.
Bettors know they can win $600 if the Bucks win the series but if they place a $100 wager on the Suns, profits are guaranteed. You still make $500 if the Bucks win, but also make $50 if Phoenix winds up winning.
Keep in mind that the larger your hedge bet is, the less you likely stand to win from your original bet. Some bettors will only hedge with a smaller amount in case their original pick is correct, but others in this situation will wager exactly half of what they might win. If you were to bet $300 on Phoenix, it is guaranteed that you make $300.
Hedging is a strategy but also a bit of an art form for sports bettors, and it can be done in a few different ways to garner a positive result. There's also a way to hedge to cancel out another wager entirely or just to cut losses, which may be done in the event there was an injury or you don't feel the original wager is going to win.
8. Futures Come In All Shapes And Sizes
When you think of futures bets, you are likely imagining season-long projections for a team or player. There's a reason that bettors jump to these markets, especially championship winners, and it's because of the potential for a huge payday.
For example, the Seattle Seahawks are considered a borderline top-10 NFL team and still pay out +2500 to win the Super Bowl. That means turning $10 into $250 or $100 into $2,500! But on the downside, these bets can be extremely difficult to win. There are 32 teams in the league and only one gets the Lombardi Trophy, so the chances of actually winning are quite small.
What bettors may not realize is that they can still bet on futures markets while going after smaller odds and a higher likelihood of winning in the end.
For example, Seattle still has lofty +1000 odds to win the NFC, and a +275 line to win the NFC West division. Bettors can even avoid finishing positions altogether and bet the Seahawks to reach the postseason (-120) go over 10 total wins (-125) with more modest lines. The point is, futures bets come in all shapes and sizes, and this is the case for a huge range of sports and leagues.
But there are also some sports that don't have season-long futures at all. Instead, they play tournaments that take a few days or weeks, rather than waiting months for an entire season.
Tennis is a sport in which tournaments last several days or weeks, depending on the event. The same can be said for soccer, which has huge events like the World Cup going on for nearly a month. Golf is a sport that plays weekly four-day tournaments, mostly starting on Thursday and ending on Sunday.
And just like more conventional sports like basketball, baseball, and football, each of the above-mentioned options has futures markets with odds that range from modest to astronomical. For example, even the favorites of a PGA Tour event will be around +1000 and it's common for the winner to come from the +2000 +5000 range. But there are also finishing position wagers and head-to-head matchups that have more modest odds offered.
9. Your Odds Are Locked In
All bettors should keep in mind that when wagering on future events, the odds are locked in at the price that was available when the bet was placed.
From the time they are posted until when the actual event takes place, futures odds are going to change quite a bit. Lines are changing throughout the offseason while teams are adding and losing players, and they're modifying every day during the season based on the action that takes place throughout.
It doesn't matter how much or little the odds change, or what happens to a given team or player, there is no going back into a bet to grab a different line. Keep this in mind and attempt to predict when a team's futures odds will be at their highest point.
10. Futures Can Tie Up Your Funds
If you are betting on season-long futures, keep in mind that these wagers take a long time to settle. Any bets placed before the season begins will take several months. Even if you place live bets during the season, they'll still take weeks or months to settle.
Futures are great because they provide a rooting interest over the course of an extended period of time but the unfortunate reality is that they can tie up your bankroll for that same length of time. Bettors won't be able to access a portion of their funds until that bet is settled (if it wins), so it could be smart to separate a percentage for futures bets or come up with a separate, smaller bankroll for them.
Types Of Futures Bets
As we know by now, there are many different types of futures bets. Some are centered around season-long results, others around specific players. Many futures cover team sports, but individual sports have futures options of their own. Below, we'll break down futures betting into a few different categories.
Team Futures Betting
The types of bets most recreational gamblers are familiar with are the ones we've discussed in detail throughout, the season-long team futures. The most popular leagues in the United States including the NFL, NBA, MLB, and NHL all play team sports with divisions and conferences constructed similarly. Though there are always some unique offerings based on sport, the above leagues share many of the same futures markets including:
Championship Winner
Conference Champion (Pennant Winner in MLB)
Division Winner
Team Win Totals
If betting before the season, odds for picking a champion are usually highest, followed by conference winners and division winners. This is because the larger the pool of potential selections to choose from, the tougher it is to make the right pick. So as the number of teams involved shrinks, so do the betting lines.
Of course, picking a huge underdog in one of the smaller markets can still lead to a huge payout. For example, picking a team expected to finish last in a certain division to win it instead. Most team win totals have more conventional odds similar to what we'd see for a regular-season contest, since this is virtually just an over/under bet with two options.
If you start with just one league and begin to grasp what online sportsbooks offer in terms of futures options, that education will quickly translate due to the similarity in markets. Bettors will also be able to wager on the league champion or the winner of a conference/division throughout the season via live betting lines.
College football and basketball are also wildly popular but because those leagues are constructed a bit differently, some of the futures options vary a bit. There are still options for some of the larger conferences and some of the divisions in them, but there are also additional futures markets to cover the postseason. This includes but is not limited to:
National Champion (Basketball/Football)
Championship Finalist (Basketball/Football)
To Reach College Football Playoff
To Reach Sweet 16/Elite 8
Region Winner (To Reach Final Four)
Player Futures Betting
Futures betting doesn't only revolve around teams, as most leagues offer some kind of players futures odds as well. As is the case with team futures, many of the biggest sports leagues offer similar postseason awards for players. That includes the Most Valuable Player (MVP) award along with things like Rookie of the Year, and Most Improved Player.
Each sport also offers player futures exclusive to that particular league. For example, the NBA has the Sixth Man of the Year while the NFL gives out both Offensive and Defensive Player of the Year awards. The NHL has a slew of unique awards including the Hart and the Vezina, while MLB has the Cy Young. College football has the Heisman Trophy, while basketball has the Wooden Award.
Because player futures involve such a large pool of betting options to choose from, the odds are often long and the payouts are generally large, even near the top of the odds board.
These types of wagers also provide a rooting interest for the length of a season, just in a different way from team futures. Betting markets involving these awards are perfect for those with a background in fantasy sports or would rather not win and lose by relying on team success alone.
Other Sports With Futures
The format for leagues like the NFL and NBA operate is seared into our minds because these are the sports we are most familiar with. But there are plenty of betting options for leagues and sports that don't have the same setup, but still offer the chance for futures betting at online sportsbooks.
Soccer Futures Betting
Soccer is a team sport with divisions, conferences, and seasons, but it's unique in that it also has many different tournaments outside of its normal schedule such as the Champions League. There are also many international tournaments like the Gold Cup, Euro Cup, and the World Cup. For hose types of events, here are some of the markets you may see:
Outright Winner
Group Winner
Stage Of Elimination
To Reach Knockout Stage
To Reach Semifinal/Final
Golden Boot/Golden Glove
Golf Futures Betting
There are many professional golf leagues around the world but none more popular than the PGA Tour, which houses many of the world's best players. Golf events are weekly four-round tournaments that take place from Thursday to Sunday. There are plenty of PGA Tour betting odds available each week, including lines for the following:
Outright Winner
Finishing Position (Top 5, 10, 20, etc.)
Top Finisher By Nationality/College
Head-To-Head Matchups
Despite the event only taking four days as opposed to months, any wagers made on the above markets are still futures bets because the wagers aren't settled until the end of the tournament.
While bettors can choose an outright winner at any point throughout the tournament, the other markets are only likely to reappear after each round with updated live odds.
Live Betting Futures
Live betting, also known as in-play or in-game betting, is the process of wagers on sporting events after they have already begun. As it turns out, this type of wagering isn't reserved for the everyday sports schedules, and futures can get in on the act as well.
Futures odds are out long before a season or a tournament ever begins, so it makes sense that many of the bets are placed before it begins. But bettors can also put money down over the course of the season as well thanks to live betting lines, which are reposted after play is over just about each day for leagues like the NBA or MLB. This means you can bet on division winners or a champion at just about any point throughout a season and don't need to place all of your futures before play begins.
The only difference between futures live betting and daily live betting is the fact that you have longer than a split second to make your decisions because the entire timeline of the wager is stretched out over weeks, days, or months, rather than just a couple of hours.
Futures Parlay Betting
Parlays are bets that combine multiple sides into the same wager, coming with enhanced odds and a larger potential payout than a conventional bet. Futures are bets with generally much higher odds than standard wagers to begin with. So what do you get when you put futures into parlays? Massive odds, and that's exactly why some bettors do it. As an example, we've combined three futures markets into one wager using odds from DraftKings Sportsbook:
Colorado Avalanche: To Win Stanley Cup (+600)
Los Angeles Dodgers: World Series Winner (+300)
Los Angeles Rams: NFC West Winner (+190)
Any of these bets would pay handsomely on its own to some degree but once you combine them, the odds explode to +8020, which means you can receive more than 80 times your original investment. A $10 bet on this would win over $800, while a $50 wager could net over $4,000 in profit.
While a payday like this one is every bettor's dream, everyone needs to keep in mind that this is a difficult feat to pull off. Parlays are tough to win by nature and so are futures, so putting them together is a risky proposition. We'd recommend only allotting a tiny portion of your bankroll to this as a fun dart throw rather than a strategy. You can also juice up the odds to any parlay by adding a futures line, as many different types of bets can be combined into one wager.