As Week 14 arrives, we are beginning to come down the home stretch of the inaugural 18-week NFL season. The deeper into December we go, the more eyes are starting to look toward the postseason.
But first, there's a 14-game slate to be played in, which means tons of betting opportunities at online sportsbooks all over the United States. There are four teams on bye and 14 games on the schedule, with 12 on Sunday including some great divisional matchups. So let's dig into the slate and make our Week 14 NFL betting picks for every contest.
Week 14 NFL Betting Lines
Whether you're signed up for DraftKings, FanDuel, BetMGM, or another one of the many reputable mobile sportsbooks out there, you'll undoubtedly be able to access a wide range of NFL odds and markets. Below are the lines for Week 14.
NFL Week 14 matchups and predictions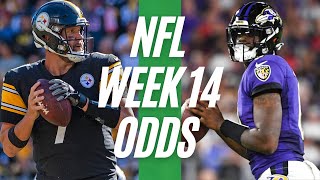 Thursday, Dec. 9 (8:20 p.m. ET)
Pittsburgh Steelers at Minnesota Vikings ()
The Steelers' upset over Baltimore coupled with the Vikings' embarrassing last-second loss to Detroit tells us that the underdog will be a popular bet this week. We've already seen this number drop from Minnesota -3.5 to -3, and the public is understandably fed up with a team that beat the Packers less than a month ago but lost to the Lions on Sunday.
Since NFL results don't exactly seem to make sense week-to-week, we are trying to ignore what happened in Week 13 alone and widen the sample size to the past few weeks. Both Minnesota and Pittsburgh have been bottom five teams in EPA per play since Week 9, largely due to a shared inability to stop the run. But if one team is more equipped to stop the other, it's Minnesota due to its sustained consistency on offense with the passing game.
The Vikings' passing offense ranks No. 2 in total DVOA and will have much more success than Lamar Jackson and the Ravens did throwing the ball. While Alexander Mattison is a fine replacement for Dalvin Cook, it will help to have Adam Thielen to compliment Justin Jefferson, so that is one thing to keep an eye on.
The Vikings rank third in pressure rate and while the Steelers' offensive line ranks third in pressure allowed, it also is 29th in pass block win rate and 29th in yards per pass. Minnesota's season-long numbers aren't much better, but it does generate pressure without blitzing quite as much as Baltimore does.
Picks: Vikings -3 (-110 or better), Over 44 (-110)
Full Steelers vs. Vikings Betting Preview
Sunday, Dec. 12 (1 p.m. ET)
Dallas Cowboys at Washington Football Team ()
The WFT has won four games in a row since the bye and is making a serious push at a second-straight postseason berth. While the NFC East is likely out of reach, a win against the rival Cowboys would still go a long way in Week 14.
Washington deserves credit for this response after losing Chase Young and Montez Sweat, and it's crazy to think that this defense has allowed 21 points or less in five straight games after the way the season started. But we need to keep in mind that Dallas is a different animal than most.
The WFT beating Tampa was nothing short of impressive, but it was right out of the bye and the Bucs got caught napping a bit. After that, it was Carolina, Seattle, and Las Vegas. None of those teams are the Cowboys, plus Dallas is coming off a 10-day rest following a win last Thursday.
The Cowboys are finally healthy along the offensive line and at the skill positions, and it showed last week against New Orleans. There are no weaknesses on Pro Football Focus' top-ranked offense, which ranks first in yards per play. The passing game is fifth according to PFF, as is the O-line's run block win rate. For all its recent success, the WFT is 24th in rush EPA since the four-game win streak started, and that should be exposed on Sunday.
Picks: Cowboys -4 or less (-110 or better), Over 47.5 (-110)
Full Cowboys vs. WFT Betting Preview
Jacksonville Jaguars at Tennessee Titans ()
The Titans are coming off the bye and the Jaguars are a desperately-needed opponent for a team that needs to get back in the win column. The Jags seem to alternate weeks where they keep games close and last week was a blowout, so are we following the pattern and choosing Jacksonville to cover the number?
While anything more than a touchdown is always a concern, I don't see a way you can take Jacksonville on the road here. With Derrick Henry out, the Titans are now a passing team. Over the past five weeks, Tennessee is 12th with a slightly above-average EPA per play on dropbacks. But the Jags' defense ranks 28th and is dead last in pass defense DVOA for the season.
Picks: Titans -8.5 or less (-110 or better), Over 43.5 (-110)
Full Jaguars vs. Titans Betting Preview
Seattle Seahawks at Houston Texans ()
So, the Seahawks' offense finally came to life in Week while Houston didn't score a single point. A week ago, it was unimaginable to give away more than a touchdown with Seattle, especially on the road. And now that this has crossed a key number, it's virtually a no-play. Seattle is a great teaser option though, and buying down to -7 at least covers you against the push. But this number is a bad one, and the only bet we'd really make is on the under.
Picks: Under 43 (-110 or better), Seahawks -7 (buy up to -125)
Full Seahawks vs. Texans Betting Preview
Las Vegas Raiders at Kansas City Chiefs ()
When the Chiefs and Raiders played a few weeks ago, Kansas City was finding itself while Las Vegas was losing its grip on things. Fast forward to Week 14, and both teams have continued to head in that direction. The Chiefs were just a 2.5-point favorite on November 14, but are now nearly double-digit favorites. Granted, the game is at Arrowhead, but that's still quite a jump.
The initial play for us has to be on the under, which is set three points higher at PointsBet than any other site at 52.5 points. The last meeting wound up with 55 points, but the Chiefs continue to slow things down a bit while the Raiders' offense has deteriorated outside of a big showing on Thanksgiving.
Both teams have motivation, as the Raiders are still in the playoff hunt and the Chiefs are trying to snag the No. 1 seed. But Kansas City's offense has found a new gear on offense while Vegas is dead last in EPA per play since Week 9. The Chiefs' defense actually ranks third in that time frame, while the Raiders' offense is 19th.
Picks: Chiefs -9.5 (-110), Under 52.5 (-110)
Full Chiefs vs. Raiders Betting Preview
New Orleans Saints at New York Jets ()
Despite a two-touchdown loss, Week 13 was probably the best showing of Zach Wilson's career with the Jets so far. However, the Jets' inability to run the ball puts Wilson and this offense in far too many tough situations, and that spells trouble for Week 14.
New Orleans has been an excellent run-stopping team over the course of the season, and the Jets' offensive line has been one of the worst in the league when blocking for the run. The Saints' defense is a top-five group in early-down success rate compared to New York being close to the bottom of the league, and third-and-long is no way for the Jets to survive.
We don't want to be taking any Taysom Hill-led offense by a touchdown over anyone, especially on the road. But the Jets are banged up without Elijah Moore, and both Alvin Kamara and Terron Armstead are back for the Saints. It's a play on the under and a lean toward New Orleans.
Picks: Under 43.5 (-110), Saints -5.5 (-110)
Full Jets vs. Saints Betting Preview
Atlanta Falcons at Carolina Panthers ()
So, let's get this straight. The Panthers have lost seven of nine games, including three of the last four. Since Week 9, this offense ranks 31st in EPA per play and head coach Matt Rhule fired offensive coordinator Joe Brady as a result. The Panthers also won't have Christian McCaffrey for the rest of the season. But still, this team is a three-point favorite? Sure, they're off a bye, but they also beat this team by six on the road a little over a month ago.
The line alone tells us oddsmakers aren't comfortable with Carolina, and neither should you. The Falcons are bad, no doubt. In fact, the EPA since Week 9 is nearly as bad as Carolina's. But we've seen that they're good enough to hang with other bad teams while getting blown out by teams that are actually decent. Matt Ryan has actually had a pretty fine year and even without Calvin Ridley, Cordarrelle Patterson and Russell Gage are making some noise.
Picks: Falcons +3 (-110), Under 43.5 (-110)
Full Falcons vs. Panthers Betting Preview
Baltimore Ravens at Cleveland Browns ()
Two weeks back, the Browns found a way to lose to Baltimore despite four picks from Lamar Jackson. Following a bye, Cleveland gets another crack at Baltimore, this time at home.
You can look at this two ways. The first is: Cleveland caused four turnovers and allowed just 16 points but still couldn't beat the Ravens. Lamar isn't throwing four picks again, so how can you bet the Browns in Week 14? The second is: Cleveland has been preparing for Baltimore for the better part of three full weeks, and the Ravens haven't played particularly good football in at least a month.
Look, Baltimore played an abominable fourth quarter against Pittsburgh, yet still could've won the game. The defensive backfield is banged up, but the Ravens bring pressure and that's Baker Mayfield's kryptonite. Plus, Mayfield is banged up and chances are that the bye didn't help all that much. We'll take Baltimore to rebound on the road as the Ravens control the clock and the ball once again.
Picks: Ravens +3 (buy up to -120), Under 42.5 (-110)
Full Ravens vs. Browns Betting Preview
Sunday, Dec. 12 (4:05 p.m. ET)
New York Giants at Los Angeles Chargers ()
Without knowing who the Giants will have at QB, this game is difficult to bet. The expectation is that Daniel Jones will be back, but it's possible we see former UGA signal-caller Jake Fromm as well. But when we look at this game outside of Big Blue's offensive huddle, we see lots of problems for New York.
The one area where the Chargers struggle mightily is stopping the run, but the G-Men are virtually incapable of moving the ball on the ground with Pro Football Focus' 31st-ranked rushing offense. And without Jones' mobility, this offense (24th in yards per play, 26th on third down) has very little chance to get going.
The Chargers' offense has the potential to be explosive in all phases and has now put up 41 points twice in the past three weeks. Although the Giants are 10th in EPA per play on passes since Week 9, that includes weaker offenses such as Philly and Miami. New York ranks 30th in pressure rate and in this one, Justin Herbert my have all day to throw or scramble.
The Giants are an impossible team to get a read on but until we know Jones is in, the play is Los Angeles. The Giants haven't scored more than 13 points in any game over the past three, and that won't be enough to cover.
Picks: Chargers -10 (-110), Under 46 (-110)
Full Giants vs. Chargers Betting Preview
Detroit Lions at Denver Broncos ()
The Lions' victory in Week 13 won't trick us into thinking they're anything better than a team with a 1-10-1 record, but this is just too many points for Denver to be giving away. The Broncos' offense had a bit of an outburst against Dallas a few weeks ago and then again vs. Los Angeles in Week 12, but the latter was turnover-aided and believe it or not, the Lions' turnover differential is nearly equal with Denver.
The Lions do enough on defense to keep the Broncos between 20 and 24 points in our mind, and that should be enough for a Detroit cover, and an under.
Picks: Under 43.5 (-110), Lions +8.5 (-110)
Full Broncos vs. Lions Betting Preview
Sunday, Dec. 12 (4:25 p.m. ET)
San Francisco 49ers at Cincinnati Bengals ()
The 49ers are a banged-up group traveling across the country in Week 14 while the Bengals are at home but have been wildly inconsistent, have a quarterback with an injured finger, and are coming off a blowout loss. Neither inspires a ton of confidence based on Week 13 alone, but all the factors combined have us thinking this is a toss-up.
For that reason, we're taking the free points with San Francisco. The Niners are an excellent run-blocking team and are one of the highest-rated passing offenses in football. The Bengals' defense has been incredibly unpredictable and this could be a spot to bet on the Niners and their great record as an underdog since Kyle Shanahan took over. The Niners are actually the top-rated team in EPA per play since Week 8.
Picks: Niners +1.5 (-110), Over 47.5 (-110)
Full Bengals vs. 49ers Betting Preview
Sunday, Dec. 12 (8:20 p.m. ET)
Chicago Bears at Green Bay Packers ()
Usually, a 12.5-point spread is large enough to scare us off. But this is the Packers at Lambeau Field in December coming off a bye. Plus, the opponent is led by Matt Nagy, a dead-man walking in terms of his job status after the season.
The Packers' offense is the third-best in football in EPA per play since Week 8, which includes games against the Cardinals and Rams defenses, plus the one game that Aaron Rodgers missed. The Bears have PFF's 29th-ranked defense, which includes the 28th-worst pressure rate in the league.
The Andy Dalton-led Bears have the third-worst turnover differential (-8) in football while the Packers are tied for fourth (+9). The last time these two teams met, the Bears somehow won the turnover battle while Green Bay was just 2-for-8 on third down. And Aaron Rodgers also threw for just 195 yards. The result? A Packers win by 10.
The only thing that holds me back here is David Montgomery. It's just hard to envision a scenario in which Chicago scores enough to keep this close.
Picks: Packers -12.5 (-110), Over 44.5 (-110)
Full Packers vs. Bears Betting Preview
Monday, Dec. 13 (8:15 p.m. ET)
Los Angeles Rams at Arizona Cardinals ()
This game belongs in prime time, as the Cardinals and Rams will both be in the postseason and this game could go a long way toward determining playoff seeding. While it does look like Arizona will win the NFC West, a heads-up win for Los Angeles makes things pretty interesting. When these two met in Los Angeles in September, it was a blowout win for Arizona, which appears to be getting healthy.
All signs point toward the Cardinals now that Muray is back, especially considering Jalen Ramsey will miss the game and that Matthew Stafford may not be fully healthy. The Cardinals are one of the few teams with a top 10 EPA per play on both offense and defense over the past six weeks, and Arizona's offense is perfectly equipped to attack the weakness in the Rams' pass defense. We expect a shootout, but one the Cardinals win.
Pick: Over 50 (-110), Cardinals -2.5 (-110)
Full Rams vs. Cardinals Betting Preview