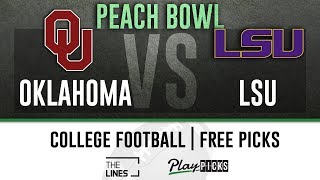 It's time to find out who is going to win the 2019 College Football National Championship. The first semifinal will put the winner of the Southeastern Conference up against the winner of the Big 12 Conference as LSU will battle Oklahoma in 2019 Chik-Fil-A Peach Bowl. It's been a magical season for both of these teams but OU has had its fair share of nail-biting moments to get into the playoffs including an overtime win over Baylor in their last game. LSU did not lose to anyone in the regular season and now has Heisman Trophy winner Joe Burrow to show off to the country.
In this article I'm going to provide a betting overview on the moneyline, points spreads, and the total using DraftKing Sportsbook and FanDuel Sportsbook odds.
While we haven't used many "leans" in our college football betting articles this season, I will use leans here when it's appropriate. A lean is the direction I'm thinking the game will go but I'm not fully committed to backing it with a play. When I'm putting my own money down, that is what I call a "pick."
LSU vs. Oklahoma moneyline
One of these two teams will be making their first appearance in the national title game as Oklahoma is 0-3 in the national semis and this is LSU's first appearance in the playoffs. Oklahoma is led by one of the best leaders in recent college football history in QB Jalen Hurts. He is the only player on the Sooners roster to know what it's like to win a national title as he did so with Alabama. LSU, meanwhile, has been putting up big numbers on every team it has faced this season and expects to keep doing it here in the playoffs despite the inexperience.
For the Sooners to win this game, they are most likely going to need a big afternoon from their defense. The issue there is that their defense has allowed 24.5 points per game and the team they are facing scores on average 47.8. We will get into the total later, but it's really hard to see Oklahoma holding LSU down after giving up over 40 to teams like Iowa State and Kansas State this season.
The Sooners pass defense is a little bit better than advertised so it will be interesting to see if LSU commits to run early. However, the Tigers got some bad news on the injury front. LSU star running Claire Edwards-Helaire rushed for 1,290 yards and recorded 17 total touchdowns in the regular season but he went down with a non-contact injury in practice before this game. His injury could limit the running game for the Tigers.
More than likely, Lincoln Riley is going to need to dial up some huge plays with his veteran QB to attempt to just outscore LSU. The Sooners are second in the nation in yards per game and fifth in points per game. LSU is No. 1 in total yards and No. 3 in points per game.
LSU does everything OU does but better. The juice is really steep here but if you want to lay it, I'll take LSU.
LEAN: LSU -490 (FanDuel Sportsbook)
LSU vs. Oklahoma point spread
As an undefeated team, it's no surprise that LSU has been favored by large lines for most of the year. This line opened at -11.5 and has been bet up to -14 at some sportsbooks around the country. LSU is 8-3-2 ATS this year but has a record of 5-3-2 as double-digit favorites this season. The Tigers were only underdogs once this year, at Alabama, and won the game outright. If you can find this game under 14 and like the LSU side, I would play it immediately because this line is for sure to go over two touchdowns prior to kick.
Oklahoma is just 5-8 ATS this season and hasn't been a reliable team for backers. OU has covered just once in its last six games. The Sooners were favorites in every game so far this year, so it will be interesting to see how Lincoln Riley handles being a two-touchdown underdog in this game. Will he call a bunch of trick plays trying to get an early lead?
No one has been able to slow down LSU this season and I just can't see a team from the Big 12 being the one to do it. It's a big number, but I'm going to lay it.
PICK: LSU -13.5 (FanDuel Sportsbook)
LSU vs. Oklahoma over/under (total)
You know college football has become all about scoring when you have No. 1 vs. No. 4 and the total is 76. It's a huge number but it's hardly surprising given the quarterbacks and the receivers who are playing in this game.
LSU is 13-0 but allowed 41 to Alabama, 38 to Texas and 38 to Vanderbilt. Oklahoma is 12-1 but gave up at least 14 points to every team it played this season.
Can OU slow down first-round NFL talents like Ja'Marr Chase and Justin Jefferson who have 32 touchdowns catches between them? Can LSU slow down superstar CeeDee Lamb and his 14 touchdown catches and 20.8 yards per catch average?
The answer, in my opinion, is no. I'll take the over in this game.