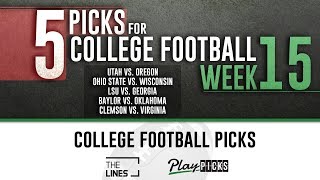 It's championship weekend in college football and it's important to remember that these games are not being played in a vacuum.
There are four spots available in the College Football Playoffs and there are seven teams trying to earn a bid. With the Pac-12 Championship being played on Friday and the Big 12 Championship Game being played early on Saturday, by the time the SEC Championship Game kicks off, we should have a pretty idea of who is in and who is out of the playoff picture.
With that said, the Pac-12 title game could have a big impact on what happens on Saturday. If Oregon wins, Oklahoma or Baylor can make the playoffs as long as LSU wins. If Utah wins, Oklahoma might need to put up a big number in victory to earn a bid.
Favorites have dominated in Power 5 title games recently with an 8-2 record ATS over the last two years and 13-5 ATS since 2016. I think that trend continues this year. Let's pick the last full weekend of games in college football.
No. 1 Ohio State vs. No. 8 Wisconsin
DraftKings Sportsbook: OSU -16.5 | Total 56.5
FanDuel Sportsbook: OSU -16.5 | Total 56.5
This will be the third time that Ohio State and Wisconsin will meet for the Big 10 title and the Badgers hope that this game goes differently than the previous two contests. In 2014, the Badgers didn't score and gave up 59 points in a blowout loss. In 2017, Wisconsin lost again but by a more respectable score of 27-21.
The 2019 Buckeyes are undefeated and the No. 1 team in the country. While some might argue that LSU should be the top team, it's hard to overlook just how dominate OSU has been this season. They haven't really been threatened in any of their games and the Buckeyes feature a defense ranked fourth in the country in points given up (11.8) and first in the country in points scored per game (49.9). In the first meeting this season, Wisconsin felt the brunt of both units to the tune of 38-7 defeat in Columbus.
No team has been in the Big 10 title game more than Wisconsin. The Badgers' record in Indianapolis is 2-3 but they have lost their last three appearances. In the first meeting between these two teams, star running back Jonathan Taylor was held to just 52 yards rushing, but the Badgers defense held the high-flying Buckeye offense to just 10 points in the first half. Unfortunately, Wisconsin gave up 28 second-half points and allowed the Big 10 Offensive Player of the Year Justin Fields to throw for two touchdowns.
Ohio State star defensive end Chase Young recorded four sacks in the first meeting and it's hard to think that the Badgers will be able to block him with a chance to be the top seed in the playoffs on the line. Equally, it's difficult to see how Wisconsin will stop J.K. Dobbins who is coming off a 211-yard rushing, four-touchdown afternoon at Michigan last week.
While it's a nice accomplishment to win the Big 10 West, having to face this Ohio State team with a championship on the line is not going to end well for Wisconsin. It's a lot of points to lay, but I'm going to do it.
PICK: Ohio State -16.5
No. 2 LSU vs. No. 4 Georgia
DraftKings Sportsbook: LSU -7 | Total 54.5
FanDuel Sportsbook: LSU -7 | Total 54.5
The SEC Championship Game has the potential to dramatically impact who is going to be selected for the College Football Playoffs. If you are a fan of Utah, Oklahoma, or Baylor, you are pulling for LSU to hold serve and hand Georgia its second loss of the season. If that happens, the SEC will only get one team into the playoffs.
However, if Georgia wins, it is widely expected that both LSU and Georgia will get selected. In that scenario, it would be very hard for one of the teams ranked outside the top four going into the weekend to make the playoffs.
With that backdrop, LSU will face a defense that might be the best in the country and a team in Georgia that has won six straight games after losing to South Carolina. The undefeated Tigers are only a seven-point favorite because Georgia is only giving up 10.4 points per game. Bookmakers appear to believe that the Dawgs can slow down the second-best-scoring offense in the country enough to make it a game.
Joe Burrow won the Davey O'Brien Award this week, given to the nation's top quarterback. The LSU signal-caller has rewritten the single-season passing record book in Baton Rouge and has already broken the SEC record for passing yards in a season. It will be interesting to see how much success Burrow and Co. have throwing the football against Georgia. No offense has managed to score more than 17 points against the Bulldogs during their win streak and two teams weren't able to score a single point. LSU is averaging 390 passing yards per game while Georgia is only giving up 186 yards per game.
This game might come down to LSU's defense and how well it plays against an inconsistent Georgia offense. Last week, the Tigers had six sacks and three interceptions during the rout of Texas A&M. If LSU plays like that, it will put a lot of pressure on Georgia to keep pace.
It's hard to imagine LSU not scoring 30 or more in this game and I just don't think Georgia will be able to score enough to pull off the upset. I think it will be close in the second half but eventually, LSU will pull away to win by double-digits. I would prefer this line at 6.5 but I'm ok with laying the full seven points.
PICK: LSU -7
No. 6 Oklahoma vs. No. 7 Baylor
DraftKings Sportsbook: OU -9.5 | Total 64.5
FanDuel Sportsbook: OU -9 | Total 64.5
This is a rematch of one of the best games played in the Big 12 this season. Earlier this season, Baylor was at home and went up 28-3 over visiting Oklahoma only to see Jalen Hurts and Sooner offense outscore the Bears 31-3 to hand Baylor their only loss of the season. It was the largest comeback in school history for OU.
The College Football Playoffs are, at the core, a TV show. Oklahoma has the hot-shot coach in Lincoln Riley, a star QB in Jalen Hurts, and a brand that is known from coast-to-coast. If the Sooners win and they are a 12-1 Big 12 Champ, the Playoff Committee will be hard-pressed to leave them out.
However, Oklahoma and Baylor both will know if Utah beat Oregon on Friday night when this game is played on Saturday. Don't underestimate margin of victory in this game when it comes to the committee's evaluation of who gets the 4-seed in the playoffs.
The biggest difference in this game from the first meeting is that CeeDee Lamb will be in uniform and on the field for OU. The Sooner star wideout is a finalist for the Biletnikoff Award, given to the best receiver in the country, and has 14 touchdown receptions so far this season. Every time Lamb touches the ball, he is a threat to take it to the house. Baylor has outscored its opponents in the first half this season 200-54 and a fast start in the first half of this game will help to contend with OU's explosiveness with Lamb in the lineup.
Baylor's defense is leading the conference in points allowed, but its offense is going to be tested against an Oklahoma defense that leads the Big 12 in yards given up per game. BU QB Charlie Brewer threw for 194 yards, two touchdowns and an interception in the first game but Baylor struggled to move the ball in the second half and it was a big factor in the comeback for OU.
Before you bet this game, make sure Utah has defeated Oregon. If that happens, I expect Oklahoma to make a statement with the final score. I'll lay the points as long as Utah wins on Friday night.
PICK: Oklahoma -9
No. 5 Utah vs. No. 13 Oregon
DraftKings Sportsbook: Utah -6.5 | Total 45.5
FanDuel Sportsbook: Utah -6.5 | Total 45.5
This game is being played on Friday night at Levi Stadium and it will be a standalone college football game. This is Utah's chance to impress the committee and prove that it belongs in the College Football Playoffs. Oregon blew its chance to get in with a loss at Arizona State but the Ducks would love to go to the Rose Bowl with a Pac-12 title as well.
Kyle Whittingham's defense is the best in the conference and if it plays like it, the Ducks are going to be in trouble in this game. The Utes are only giving up 11.3 points per game — that's top three in the country. Utah leads the country in rushing yards allowed at 56.3 and ranks are in top 15 in passing yards allowed as well. The Utes have been crushing opponents over the past three games and now have a chance to show the entire country how good they are.
Ducks QB Justin Herbert is an NFL prospect and has thrown for 31 touchdowns so far this season. He plays behind a big, physical offense line and has an offense that features a bunch of athletic skill position players. However, Oregon's offense can be a bit one-dimensional, and against this Utah defense it's hard to see how the Ducks score a bunch of points.
Utah's offense, on the other hand, is multi-dimensional, featuring one of the best rushing attacks in the country. Running back Zack Moss and QB Tyler Huntley have combined to rush for over 200 yards per game, and play-action has allowed Huntley to complete a nation's best 75.5 percent of his passes. Huntley will face a secondary that has 17 interceptions on the season, so ball protection will be a must in this one.
With this game being played outside, the weather forecast is calling for rain and wind. Both of those elements favor Utah's style of play. I like this line under a touchdown and for Utah to put itself in prime position to make the playoffs. I actually think the Utes belong over OU or Baylor.
PICK: Utah -6.5
No. 3 Clemson vs. No. 23 Virginia
DraftKings Sportsbook: Clemson -28 | Total 55
FanDuel Sportsbook: Clemson -28 | Total 55.5
The Clemson Tigers have been beating teams by an average of 40.2 points since they nearly lost at North Carolina. The College Football Playoff Committee hasn't been in love with the Tigers' schedule but they've surely taken notice of the margin of victory.
In short, the Tigers have been killing everyone over the past two months and now Virginia has to find a way to pull a massive upset in its biggest game of the year.
Bronco Mendenhall is a great coach and before you dismiss Virginia completely in this game, this Cavaliers squad gave Notre Dame a run in South Bend earlier this season. UVa will need to keep the ball away from the Tigers and limit possessions in order to shock the world. The Cavs rank in the top 10 in the country in time of possession and QB Bryce Perkins must covert on 3rd down against a defense that is great at getting off the field. Perkins also is the best offensive weapon that Virginia has and he must play like it on Saturday.
The issue with this game for me is the line. Any team that is catching four touchdowns, on a neutral field, in its first ACC title game in history, is a side I want to be on. I know Clemson has been killing everyone but I'm going bet on Perkins to do enough to keep the ball away from Trevor Lawrence to cover this huge line.
PICK: Virginia +28