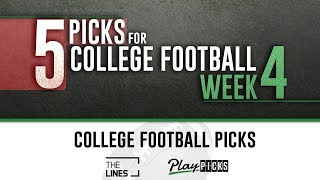 We got on the winning side of things last week and look to continue that trend as we hit Week 4 in college football. We had some success with first-half plays last week and we will go back to that for one of our plays this week as well. A couple of my plays are on teams that will have a chance to continue what they have been doing this season, and we also have plays on the two biggest games of the week.
After a 3-2 mark in Week 3, let's have another winning week.
No. 11 Michigan at No. 13 Wisconsin
DraftKings Sportsbook: Wisconsin -3 Total 42.5
FanDuel Sportsbook: Wisconsin -3.5 Total 44
This is the game of the week in the Big 10 and we will learn a lot about Michigan after this one. Wisconsin is in the conversation for the most impressive team of the early portion of the college football season. Their stats are truly impressive. Wisconsin is number 1 in the country in yards per game given up with just 116 yards per contest. The Badgers are converting on 3rd down 65.3 percent of the time, that's top 2 in the country. UW is also top 2 in the country in 3rd down defense. No one has scored a single point on this team through two games and they are coming off a bye as they welcome Michigan to town. Running back Johnathan Taylor has already scored 8 touchdowns in two blowout victories.
The Wolverines are also coming off a bye but we really don't know what to make of this team. Last time out, they needed overtime to beat a physical Army squad and UM failed cover a 36-point line against MTSU in the opener. There is a lot of pressure on head coach Jim Harbaugh to contend for a Big 10 title and this is the first of the road tests that include games at Ohio State and Nebraska.
Last year, Wisconsin got its doors blown off 38-13 at Michigan. It was the largest loss under head coach Paul Chryst and snapped a 17-game Big 10 winning streak. In that game, QB Alex Hornibrook threw two interceptions and the game got away in the second half. This year, junior QB Jack Coan is completing 78.8 percent of his passes, and even though the competition hasn't been the most difficult, he threw for over 200 yards on the road at USF.
I'm going to go with the team that has looked better on both sides of the ball. It's going to be a battle, but I'm only having to lay a field goal here to get the team with the best player. I'll take Johnathan Taylor and Wisconsin.
Pick: Wisconsin -3
No. 7 Notre Dame at No. 3 Georgia
DraftKings Sportsbook: Georgia -14 Total 58.5
FanDuel Sportsbook: Georgia -14.5 Total 57
There will be a sell-out crowd of nearly 93,000 inside of Sanford Stadium to see the vaunted Notre Dame Fighting Irish play in Athens for the first time ever. That's expected. What is impressive is that the folks in Georgia are preparing to see just as many people outside the stadium on gameday as there will be watching these two teams play between the hedges. To say that Bulldog fans are fired up would be a massive understatement and this environment is going to be brutal for the Irish.
Georgia has done nothing but impress with easy wins over Vandy, Murray State and Arkansas State. But here comes a top 10 team into their building. This is the game where QB Jake Fromm's Heisman campaign can really begin if he puts up big numbers, and it's a chance to announce to the country that Georgia is a serious player to win it all.
For Notre Dame, traveling to an SEC power is not going to be easy and they have yet to beat Georgia in two previous tries. QB Ian Book has been solid in the team's first two victories over Louisville and New Mexico but this is a whole new level of competition. Georgia's secondary hasn't been tested yet but it's full of NFL caliber talent and the Bulldog defensive front is an experienced unit. Book has to protect the football and the offensive line can't allow the Dogs to get the crowd going with sacks on 3rd down.
I'm going to FanDuel and taking the first-half line. I think Georgia is going to come out flying and it takes a few quarters to adjust to playing on the road in an SEC environment like one we will see on Saturday. This game might tighten up late, so I'm going to play the first half line of -7.5 Georgia.
Pick: Georgia -7.5
Cal at Ole Miss
DraftKings Sportsbook: Ole Miss -2.5 | Total 41.5
FanDuel Sportsbook: Ole Miss -2.5 | Total 41.5
As we go later into the season, we start to get look at teams outside the Top 25 that present value from a sports gambling perspective. While this game does feature two unranked opponents, it's another Pac-12 vs. SEC contest that is very interesting to break down. This game opened as the Bears laying one point, but now they are catching 2.5 with the public backing the home team
Cal surprised everyone by beating Washington on the road in Week 2 and has played a bruising style of defense, allowing only 18 points per game. Winning at Washington really surprised me because the Bears dictated tempo and controlled the game. The Bears did to Washington what Memphis did to Ole Miss in its opener.
For Ole Miss, this is the first time the Rebels have ever hosted a Pac-12 school in Oxford and this is the return game from a 2017 trip to Berkley where the Rebels lost 27-16. In that game, Ole Miss led at the break but couldn't find enough offense in the second half against a stingy Cal defense.
I have a rule that I broke earlier this year with never picking at Pac-12 school to beat a SEC school when I bet Oregon to beat Auburn in the season opener. We know how that went, but here I am to do it again. I don't think Ole Miss wants to play the brand of football that the Bears are going to bring to this game on Saturday. Cal wants a war, and against Memphis, the Rebels really struggled to find their footing against a team that wanted to slow the game down.
PICK: Cal +2.5
Baylor at Rice
DraftKings Sportsbook: Baylor -26 | Total 58
FanDuel Sportsbook: Baylor -26.5 | Total 58
Here we are again laying a lot of points with the team playing the Rice Owls. Last week, we took Texas to cover the 32-point line and nearly got screwed at the end of the game with a garbage time touchdown by Rice. We got bailed out by the ensuing kickoff being returned for a touchdown by Texas to cash our ticket.
This week, Rice is at home against a team that is playing like the Baylor teams under former head coach Art Briles. The Bears under current head coach Matt Rhule are 2-0 and are averaging 59.5 points per game in two very easy wins to start the season. QB Charlie Brewer has already thrown six touchdowns and is completing over 70 percent of his passes. Wideout Denzel Mims has three touchdown catches and the Bear defense has only given up a total of 31 points this season.
Rice is 0-3 and hasn't looked great in any of its games so far on offense. The opener at West Point was an ugly 14-7 loss and then the Owls gave up 41 and 48 respectively to Wake Forest and Texas. Baylor is going to score a lot of points and that's a big problem for a Rice offense that wants to run the football.
I will be surprised if Baylor doesn't score 50 in this game and I just don't see how Rice scores more than 20.
Pick: Baylor -26
Michigan State at Northwestern
DraftKings Sportsbook: Michigan State -9.5 | Total 38.5
FanDuel Sportsbook: Michigan State -9.5 | Total 38
Why is Michigan State favored by nearly double digits in this game?
The Spartan offense is a complete mess. Against Power 5 teams, Michigan State has not scored more than 24 points in its last nine games. The Spartans are coming off a brutal loss to Arizona State where the Pac-12 had to admit an officiating error that led to the Sun Devil's win in East Lansing. However, MSU only scored seven points and really have no one to blame but itself for the loss. The Spartans defense is tremendous but their offense is just lousy.
Northwestern is also a team built on defense, giving up just 15.5 points per game, but the Wildcats also have trouble scoring. Against a bad Stanford team, they could only put up seven points. Yet, last time out, the Wildcats scored 30 in a blowout win over UNLV and started to look like a Pat Fitzgerald coached team.
Wildcats starting QB TJ Green hurt his foot against Stanford and is out for the season. Hunter Johnson is a transfer from Clemson who takes over the position and threw for 165 yards and touchdown versus UNLV last week. He will have to cut down on the three interceptions he has thrown so far this year against a Spartan defense that has feasted on opposing quarterbacks. I think the plan will be to pound the rock and play defense in this game and not put Johnson in a position to make a big mistake.
I'm going to ride the trends here. The Wildcats are going for their fourth straight win over the Spartans, and Northwestern is a very tough out at home. The under has hit in both NW games this year and it also has come in on both Michigan State games against Power 5 schools. I don't hate a play on the under 38.5 here and I also don't hate a small money line play on Northwestern at +295.
Pick: Northwestern +9.5