The Super Bowl is one of the most anticipated events of the year and probably the biggest spectacle on the sports calendar. This year, the Los Angeles Rams will essentially host the Cincinnati Bengals at SoFi Stadium and online sportsbooks are preparing by offering a truly enormous range of prop betting markets for the public to choose from.
But as always, few brands can offer what FanDuel Sportsbook brings to the table when it comes to NFL betting, and that extends to the Super Bowl. Regardless of what your preference is, you're guaranteed to find a bet you like at FanDuel due to the volume of choices alone.
We've done a deep dive into the offerings so you don't have to and below, we're laying out our favorite FanDuel Super Bowl props for February 13!
Super Bowl LVI Betting Odds
Super Bowl 56 Prop Predictions | Five Best Bets From FanDuel Sportsbook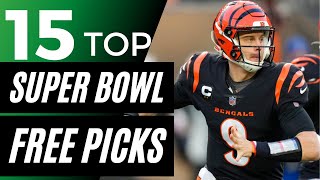 When it comes to the regular season, the bookies are in their own element. But when it comes to Super Bowl props, it's the Wild West of sports betting. Online sportsbooks know that bettors love props, and they've been creating more and more unique props every year to keep us happy and attract our business.
The good news for the public is that when you handicap hundreds of prop markets at once, you can't possibly price them all correctly. That means there are chances for bettors to capitalize and find some value, which hopefully we can do below.
Joe Mixon First RB To Reach 50 Rushing Yards (-112 or better)
The first to 50 rushing yards prop is lined -112 for both Joe Mixon and Cam Akers, but I absolutely love Mixon on this one. The Bengals have made a point of getting Mixon involved early and often throughout their playoff run, and I believe establishing the run will be key to the Bengals having a chance to win this game.
Mixon went for 88 yards on 21 carries last week and was essential to their victory over the Chiefs, and I believe the Bengals will try to establish him early. Cincinnati is also much better defending the run than the pass, so I expect Matthew Stafford to be throwing the ball much more than handing it off.
Cam Akers has also failed to reach 50 yards in either the Divisional or Championship rounds. All signs point to Mixon here and I'm thrilled it's only -112.
Odell Beckham Jr. Over 5.5 Receptions (+116)
Beckham was not a high-volume receiver with any consistency since coming over from the Browns, but his workload has really increased in the postseason. After snagging all four targets in the divisional round, OBJ had 15 catches on 19 targets in the next two games and is clearly Matthew Stafford's safety valve on the rare occasion that Cooper Kupp isn't open.
If OBJ can get at least eight targets, there's a great chance of him hitting this over at plus-money. His alternate receiving yards are also a great choice for your same-game parlays.
Jamar Chase & Cooper Kupp 200+ Receiving Yards Combined (+115)
This one is just for a little fun. These two were arguably the most talented and prolific wide receivers in the NFL this year and it would surprise no one if they went off for 150+ yards each, much less 100. I like that we're getting the combined yards in this prop and not asking for a specific number from one guy.
If Chase goes off for 155 but Kupp is somehow held to 50 yards, the prop still hits. At +115, that's tasty enough for me to sprinkle a wager and have some fun rooting for the star receivers. Is this a plus EV bet? Maybe not, but it's close enough to a coin flip that +115 is worth the entertainment value.
Evan McPherson 8+ kicking points & Joe Burrow 15+ rushing yards (+250)
FanDuel is offering parlays combining multiple props, and this is one that caught my eye. Joe Burrow ran five times for 25 yards in the AFC Championship and while he didn't take off for many yards in the previous two games, the Super Bowl is when an elite competitor like Burrow is more likely to take the game into his own hands (and legs).
This is the kind of number where Burrow could go over on the Bengals' first drive, or we could be sweating out each additional yard all game. Either way, it sounds like fun to me.
To get to 8+ points, Evan McPherson would need two field goals and two extra points, which isn't asking a lot. For context, he's -150 to go over 1.5 field goals. He could also get there by kicking three field goals, which is completely doable given how much faith the team has in him.
Ultimately, I think this prop comes down to the Burrow rushing yards. At 15 yards, the number is small enough that two scrambles could put it over the total, so at +250, I think there's a positive edge on this bet. The implied probability at +250 odds is 28.57%, and I think that number should be closer to 40%.
Evan McPherson Walk-Off FG At End Of Regulation (+1000)
At +1000, sign me up for the potential game-ending drama that could be riding on an Evan McPherson field goal to win the Super Bowl. Keep in mind that the winning margin must be three points or less for this one.
Given the way these playoffs have gone recently, it would surprise absolutely no one if this game ended with Joe Burrow driving the Bengals into field goal range, and McPherson splitting the pipes for three points as time expires.
Is it the most likely end to the game? Of course not. But to see if this is a bet you'd like to make, ask yourself what you think the chances are that the Bengals win on a game-ending field goal. If your answer was higher than the implied odds of 9.09%, this may be worth a small investment.
Best Sportsbooks For Super Bowl LVI Betting