A big part of what makes the Super Bowl the ultimate sports betting event is the props market. The number of props available has grown exponentially with every season, and Caesars Sportsbook has a massive collection of offerings that could rival any brand in the industry. The volume of options along with its bonuses and promotions means this is the place to be if you're betting on the big game.
Because there are so many markets, going through all of them can be quite overwhelming. But not to worry, because PlayPicks has combed through all of the Caesars Super Bowl props and narrowed the list down to our favorites for Rams vs. Bengals.
Super Bowl LVI Betting Odds
Super Bowl 56 Props | Five Best Bets From Caesars Sportsbook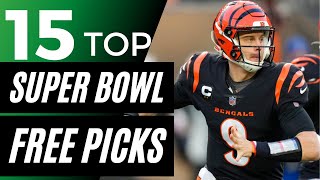 Even before the Rams and Bengals kick off on Sunday night, millions of dollars worth of Super Bowl props will already be cashed on props.
But this article won't focus on any of the silliness like the coin toss, length of the national anthem, or color of Gatorade at the end of the game. Although some of those bets can be quite profitable if you get an inside tip, the props below will all focus on the field of play.
Evan McPherson Over 1.5 Made Field Goals (-150)
How could anyone not be bullish on Evan McPherson at this point? The Rams have an excellent defense, so touchdowns may not come easy for the Bengals in this one. I can see Cincinnati putting together a quality drive that comes up short and rather than go for it on 4th down, Zac Taylor would be happy to get on the board with three points.
Most teams in the NFL have embraced going for it on fourth down, but most teams also don't have such a slam-dunk field goal kicker. I think it's highly likely that McPherson kicks two made field goals, and much higher than the 60% implied odds from a -150 line.
Cam Akers Under 63.5 Rushing Yards (-110)
Akers has failed to hit 50 yards in his last two games and with Cincy's weakness in the secondary, I don't see this being the game where LA leans on a second-year player who just fully recovered from knee surgery. Sean McVay loves play action, but it's been proven through multiple studies that the number of times you run the ball has no effect on the success of a play-action pass play.
This is Sean McVay's second shot at the Lombardi Trophy and it could very well be his last. He is not going to entrust this game in the hands of a second-year back who's barely played this year. The only way this over hits is if Akers rips off a long run, which is always possible. But this number is simply too high to not take the under at -110.
Caesars Super Bowl Parlay: Matthew Stafford Over 286.5 Passing Yards & Joe Mixon Over 61.5 Rushing Yards (+240)
Caesar's has a couple of interesting QB/RB offers going, letting you combine Mixon or Akers with either Burrow or Stafford. As we detailed above, I'm bearish on Akers and bullish on Mixon, while also bullish on Stafford passing yards. This creates the perfect scenario to grab Stafford over 286.5 and Mixon over 61.5.
Before you go and bet this prop, though, understand that this is +240 for a reason. The Rams are excellent on defense and it's very possible Mixon doesn't reach 61.5 yards. At the same time, if he pops one big one he could fly past that number.
The passing total on Stafford is also high, but he's flown over that number in his past two games, and defending the pass was Cincinnati's biggest weakness this season. Although, try telling that to Patrick Mahomes in the second half of the AFC Championship. Ultimately, at +240 the juice is worth the squeeze for me on this prop.
What Happens First For Joe Burrow: Interception (+200), Touchdown (-240)
Again, here is a prop where I don't believe the right side is being favored. Earlier in the season, Burrow threw three interceptions to the Chicago Bears on three straight passes. The Bears had a total of eight interceptions all season long, so that was quite the feat by Burrow. The Rams, on the other hand, were third in the NFL with 19 interceptions this season.
Along the same lines as the shortest field goal prop, I don't imagine the Bengals are going to be lighting up the scoreboard with TDs in this game. If they do, something has gone terribly wrong with the Rams' defense. At +200, I think there's clear value on taking Burrow to throw a pick before a TD.
Team With Shortest Made Field Goal: Bengals (-115)
I thought it was interesting that this prop is lined -115 both ways, and I like Cincinnati here for a couple of reasons. The first is that I think it's likely Cincinnati finishes the game with more field goals than LA, and additional data points could bring in a field goal of shorter length than LA's shortest.
The Rams also have the advantage on defense in this game, meaning it's going to be harder for the Bengals to get TDs in the red zone. A case in point would be the divisional game against the Titans in which Cincy scored just one TD.
Cincinnati trusts their field goal kicker infinitely more than LA and should be a clear favorite on this prop in my opinion. I love getting this at -115, and if the number moves, I'd play it up to -130.
Best Sportsbooks For Super Bowl LVI Betting